Penerapan Asuransi Dan Akad Murabahah Pada Pembiayaan KPR Di BTN Syariah KC Bandung
Ira Juniarti

Universitas Islam Nusantara

Dede Sumiati

Universitas Islam Nusantara

Dian Rosinawati

Universitas Islam Nusantara
Keywords:
Mortgage Financing, Murabahah Financing, Insurance
Abstract
Mortgage financing to provide livable and comfortable housing by simply providing a down payment, and the rest is paid in installments every month. Mortgage financing also includes insurance coverage to anticipate if a customer dies and a way for the bank to minimize losses and risks. Qualitative research was conducted to find out the Application of Insurance and Murabahah Contracts in KPR Financing at BTN Syariah KC Bandung which was carried out by studying literature related to Islamic Banking, interviews, and financing procedures. The results of this study are that the application of a murabahah contract at BTN Syariah KC Bandung is used to provide mortgage financing in accordance with the results of the analysis carried out by the bank on prospective customers. First, the bank will inform the assessment of the location and house that the customer wants to own, fit to live in, and is considered comfortable to live in. Second, the customer prepares the required documents for submitting mortgage financing at the BTN Syariah bank. Third, the BTN Syariah bank will consider and assess the completeness of the prospective customer's files, as well as carry out a 5C analysis of the prospective Bank BTN Syariah KPR customers. Fourth, if the results of the analysis are feasible to finance, then proceed to the KPR financing disbursement stage. Fifth, installment payments are made every month according to the agreed period. Furthermore, the application of insurance to KPR financing at BTN Syariah KC Bandung in the form of a customer before signing in front of a notary, the bank asks the customer to prepare a down payment of 10–20% of the property price, booking fee fee, 1% provision fee of the total ceiling, fees credit agreement notary, APHT guarantee costs around 0.25% of 125% credit value, deed of sale and transfer of title, costs of acquisition of building land rights (BPHTB), fire insurance costs, and credit life insurance costs.
References
Effendi, A. (2016). Asuransi Syariah Di Indonesia (Studi Tentang Peluang Ke Depan Industri Asuransi Syariah): Vol. Vol. 3, Is.
Handayani, F., Masse, R. A., & Sunuwati, S. (2019). Implementasi Akad Murabahah Pada Pembiayaan Kpr Di Bank Tabungan Negara Syariah Parepare. Banco: Jurnal Manajemen Dan Perbankan Syariah, 1(1), 45–68. Https://Doi.Org/10.35905/Banco.V1i1.700
Hasanah, U. (2013). Asuransi Dalam Perspektif. Ilmu Syariah, 47(1), 240–268.
Liana, L. (2010). Implementasi Akad Murabahah Dalam Produk Pembiayaan Kpr Di Bri Syariah Dan Bni Syariah Cabang Banjarmasin.
Marcela Nasir Dan Siswadi Sululing, S. (2015). Marcella Dan Sululing: Penerapan Akuntansi Murabahah Terhadap Pembiayaan Kredit… Penerapan Akuntansi Murabahah Terhadap Pembiayaan Kredit Pemilikan Rumah Pada Bank Syariah Mandiri Cabang Luwuk. In Jurnal Akuntansi: Vol. Xix (Issue 01).
Nirmadarningsih Hiya*, Saparuddin Siregar, S. G. P. U. (2022). Analisis Penerapan Akuntansi Murabahah Dalam Pembiayaan Kpr Syariah Ditinjau Dari Psak No.102 Pada Bank Syariah Indonesia Nirmadarningsih. Ekonomi, Keuangan, Investasi Dan Syariah (Ekuitas), 4(1), 70–73. Https://Doi.Org/10.47065/Ekuitas.V4i1.1298
Standar Produk Perbankan Syariah Murabahah, (2016).
Vidia Annisa Palem, & Atika, A. (2022). Penerapan Asuransi Dalam Pembiayaan Kredit Pemilikan Rumah (Kpr) Flpp Pada Pt. Bank Sumut Syariah Kantor Cabang Pembantu Syariah Kisaran. Ekoma : Jurnal Ekonomi, Manajemen, Akuntansi, 2(1), 12–22. Https://Doi.Org/10.56799/Ekoma.V2i1.880
Wahyuni, N., & Hum, M. (2017). Penerapan Prinsip 5c Dalam Pemberian Kredit Sebagai Perlindungan Bank.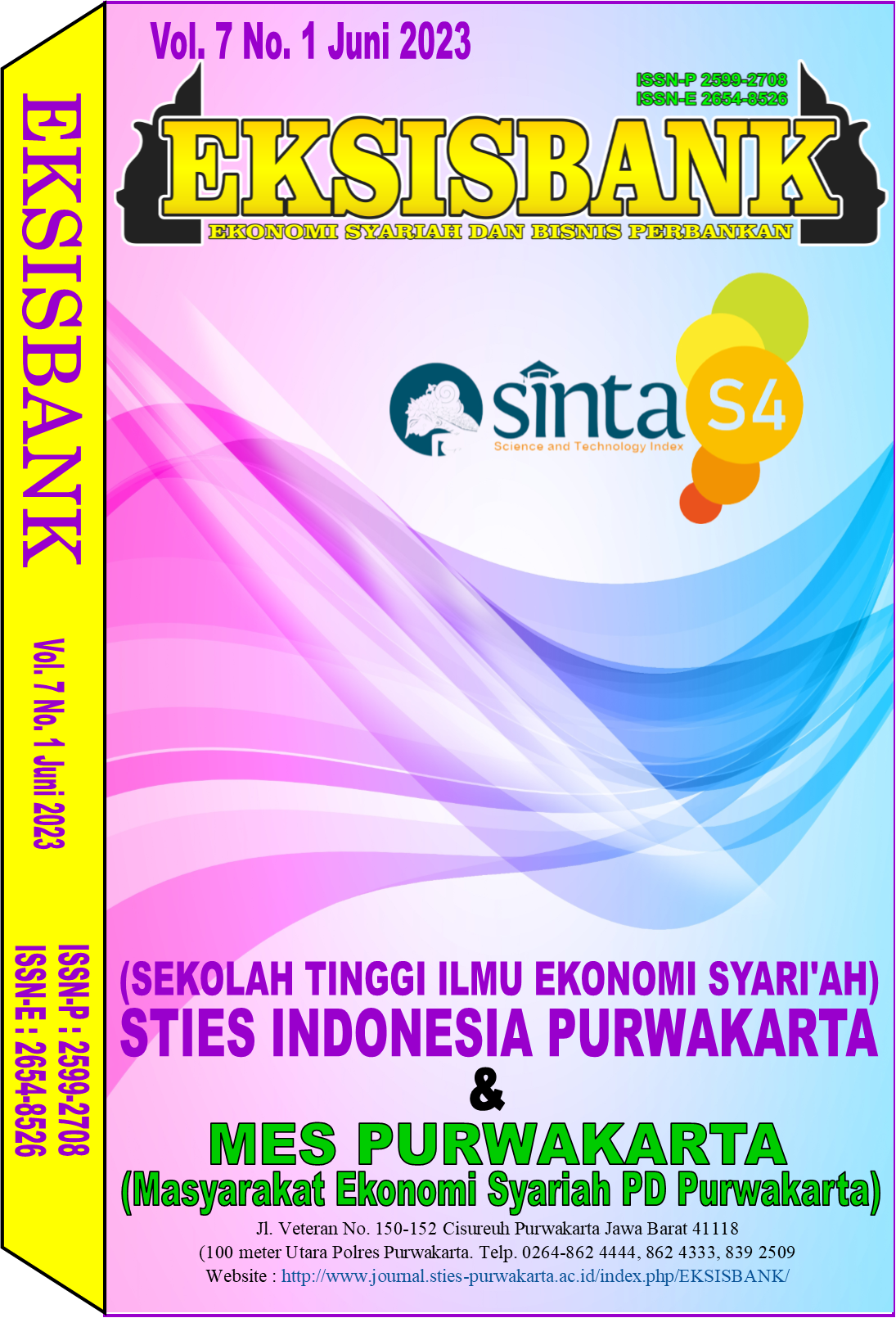 How to Cite
Juniarti, I., Sumiati, D., & Rosinawati, D. (2023). Penerapan Asuransi Dan Akad Murabahah Pada Pembiayaan KPR Di BTN Syariah KC Bandung. EKSISBANK (Ekonomi Syariah Dan Bisnis Perbankan), 7(1), 136-146. https://doi.org/10.37726/ee.v7i1.849