The Pengaruh Etika Komunikasi dan Kepemimpinan Islam Terhadap Kinerja Karyawan (Studi Kasus Rumah Produksi Rotte Factory Kota Pekanbaru)
Hendra Eka Saputra

Universitas Islam Riau

Ficha Melina

Universitas Islam Riau
Keywords:
Ethics, Communication, Leadership, Islam, Employee performance
Abstract
This work discusses good Communication Ethics and the meaning of embedding a description of Communication Ethics in employees, which relates to ethical (moral) norms. Communication Ethics which plays a very important role is useful for a leader because it can be a means of monitoring behavior or behavior in everyday life. Communication is inseparable from the leadership carried out by a leader in an agency or institution. In addition to communication, a leader who is Muslim should be an example for employees. Discourses about leadership and boss problems are something that never stops talking from time to time. None other than the past, the present and the future, many of the above have been reviewed and analyzed from various points of view. Everything is related from where one views and discusses the problem of an object. The object of this study is the ethics of communication and Islamic leadership at the Rotte Factory production house in Pekanbaru. The purpose of this study aims to determine the effect of communication ethics and Islamic leadership on the performance of Rotte Factory employees. This type of research uses quantitative where previously a field survey was carried out with a total of 170 employees as a population and according to Sugiono, a minimum sample of 30 people was determined. Questionnaire distribution uses network technology with the Googleform platform, and data processing uses PLS SEM which is made easy using Microsoft Excel. The results of the research are testing the hypothesis that there can be described that communication ethics on employee performance shows the number -.0.381 with a tolerance of 0.05 so that the effect simultaneously has no effect. However, it produces a negative effect between communication ethics on employee performance where the tolerance number is still below 0.05 with an acquisition of 0.020 which means it has no significant effect. Meanwhile, leadership style affects employee performance with an assumption of 0.517, there is a tendency to increase leadership style so that employee performance can have a direct impact. The number 0.002 can be interpreted that the influence arising from the leadership style on employee performance is positive and significant.
References
Abdurohim, D., Sutrisno, A. D., & Rukmana, J. (2020). Pengembangan Kapasitas Kewirausahaan dan Desiminasi Teknologi Pada Kelompok Usaha Kecil di Kertasari Kabupaten Bandung. Jurnal Pengabdian Kepada Masyarakat, 9(2), 136. https://doi.org/10.30999/jpkm.v9i2.733
Ahmad K, Ogunsola OK. An empirical assessment of islamic leadership principles. Int J Commer Manag. 2011;21(3):291–318
Islam A, Zawawi NFM, Wahab SA. Rethinking survival, renewal, and growth strategies of SMEs in Bangladesh: the role of spiritual leadership in crisis situation. PSU Res Rev. 2021
Ali AJ. Islamic perspectives on leadership: a model. Int J Islam Middle East Financ Manag. 2009;2(2):160–80.
Hartini, Kustin, dkk. 2022. Pengaruh Kepemimpinan Islami, Komunikasi Dan Lingkungan Kerja Terhadap Kinerja Karyawan Pt. Bank Syariah Indonesia. Jurnal Al-Intaj Volume 8 nomor 2
Hidayat R. Etika Komunikasi Pemimpin Perspektif Hadits. Indones J Islam Commun. 2019;2(2):105–30.
Prasetya RG. No Titleبررسی مقایسه هوش معنوی، سرسختی روان شناختی مبتلایان به بیماری عروق کرونر و افراد سالم. همایش بین المللی افق های نوین در علوم انسانی. 2017;02(6):6–18
Sanjaya, Heru T., Dkk. 2022. Faktor–Faktor Yang Mempengaruhi Kepemimpina: Kualitas Kerja, Efektivitas Kerja, Dan Komunikasi Kerja (Literature Review Kualitas Kerja). Jurnal JEMSI Volume 3 Issue 3
Rojikinnor R, Gani AJA, Saleh C, Amin F. The Role of Compensation As a Determinant of Performance and Employee Work Satisfaction: A Study at The PT Bank Rakyat Indonesia (Persero) Tbk. J Econ Adm Sci. 2022;
K J, Ranjit G. Explicating intrinsic motivation's impact on job performance: employee creativity as a mediator. J Strateg Manag. 2022;
Syatori Nasehudin T& NG. Metodologi penelitian Kuantitatif. 1st ed. Ahmad Saebani B, editor. Bandung: Pustaka Setia; 2012. 1 p.
Amirullah. Populasi Dan Sampel (pemahaman, jenis dan teknik). Wood Sci Technol. 2015;16(4):293–303.
Arfatin Nurrahman D. Pengantar Statistik 1. 1st ed. Haryanti S, editor. Jakarta: Media Sains Indonesia; 2021. 38 p.
Abdullah PM. Living in the world that is fit for habitation : CCI's ecumenical and religious relationships. Aswaja Pressindo. 2015. 331 p.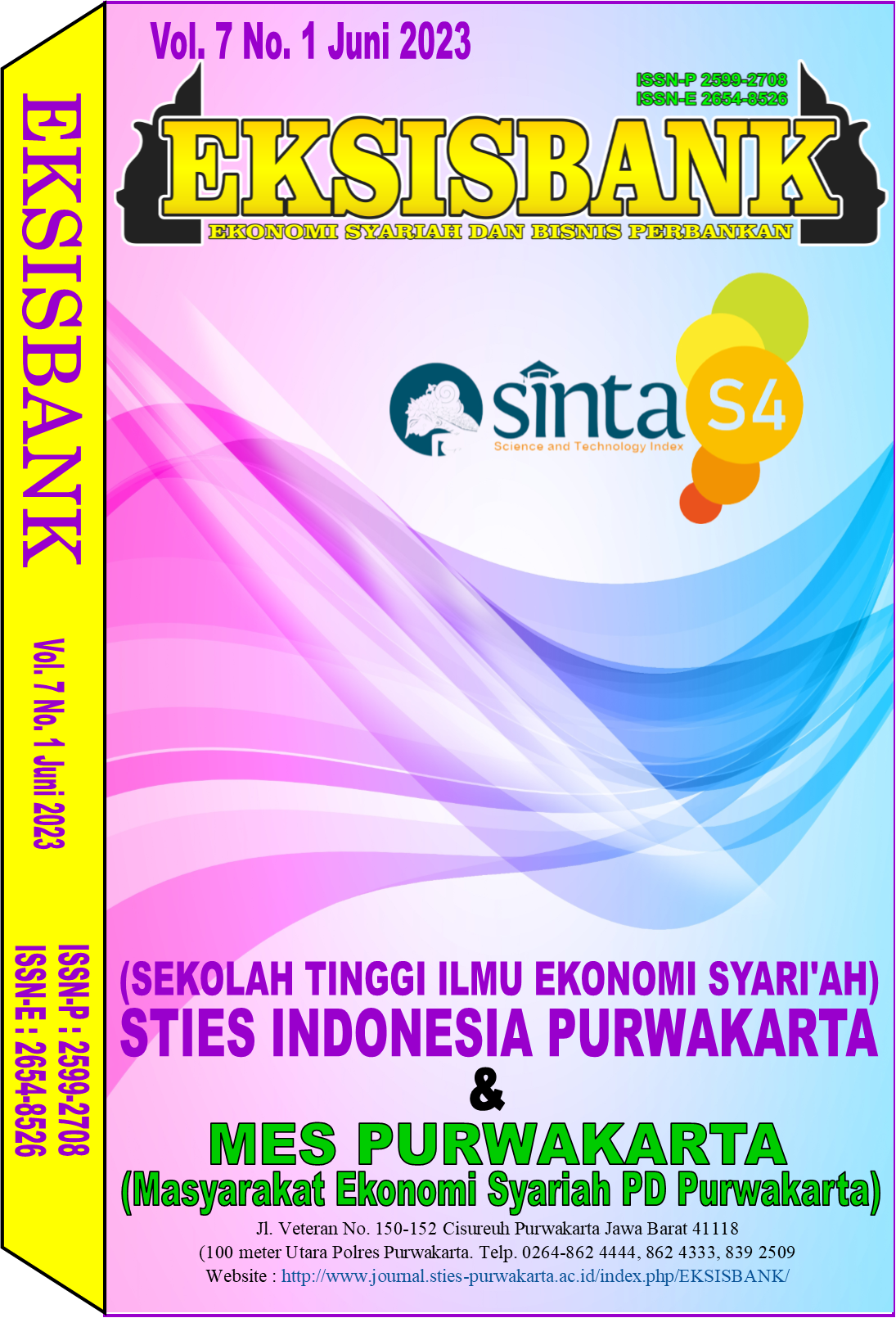 How to Cite
Saputra, H. E., & Melina, F. (2023). The Pengaruh Etika Komunikasi dan Kepemimpinan Islam Terhadap Kinerja Karyawan (Studi Kasus Rumah Produksi Rotte Factory Kota Pekanbaru). EKSISBANK (Ekonomi Syariah Dan Bisnis Perbankan), 7(1), 160-168. https://doi.org/10.37726/ee.v7i1.751