Peran Pondok Pesantren Al-Zaytun Dalam Meningkatkan Ekonomi Masyarakat Sekitar
Imam Prawoto

Institut Agama Islam Az-Zaytun Indonesia

Fitri Anisa

Institut Agama Islam Az-Zaytun Indonesia
Keywords:
Keywords— Role, Islamic Boarding School, Ma'had al-Zaytun, Economics, Community.
Abstract
Educational institutions in Indonesia consist of various types, one of which is Islamic boarding schools. Islamic boarding schools are the oldest Islamic educational institutions in Indonesia. The majority of Muslims in Indonesia have established many Islamic boarding schools in this country. The current role of Islamic boarding schools is not only as educational institutions, but also as institutions that can increase economic value through programs contained in Islamic boarding schools. The purpose of this study was to find out and analyze the role of the Ma'had Al-Zaytun Islamic boarding school in improving the economy of the surrounding community. This research was conducted at al-Zaytun Islamic Boarding School. This research is a descriptive qualitative research. Data sources were obtained from interviews, observations, and literature studies related to the research topic. The results of this study found that in addition to being an Islamic educational institution, the Al-Zaytun Islamic boarding school also has considerable resources, so that with these resources the Al-Zaytun Islamic boarding school can carry out various activities, one of which has economic centers both in agriculture, animal husbandry, fishery and cooperatives that can help improve the economy of the Al-Zaytun community and the surrounding community, such as providing loans and capital from the Ma'had Al-Zaytun Islamic boarding school cooperative; P3KPI provides land and capital for those who want to farm with a profit sharing system from the harvests obtained; Providing employment for the surrounding community, especially to manage Ma'had Al-Zaytun's agriculture and plantations; and distribution of harakah zakat and harakah Qurban to the community around the Islamic boarding school.
References
Alang, A. Z. (2019, Juni). Produksi, Konsumsi Dan Distribusi Dalam Islam. Journal Of Institution And Sharia Finance, 2(1), 9-21.
Albani, M. A. (2021). Santri-Pesantren Indonesia Siaga Jiwa Raga Menuju Indonesia Emas 2045. Banyumas: Cv. Zt Corpora.
Alfurqan. (2019). Perkembangan Pesantren Dari Masa Ke Masa. Hadharah: Jurnal Keislaman Dan Peradaban, 13(1), 1-16.
Anggito, A., & Setiawan, J. (2018). Metodologi Penelitian Kualitatif. Sukabumi: Cv Jejak.
Arjiarna, B. A., Hasan, Y., & Dhita, A. N. (2021). Perkembangan Pesantren Di Indonesia. 3(1), 52-61.
Fadilah, N. (2020, Desember). Teori Konsumsi, Produksi Dan Distribusi Dalam Pandangan Ekonomi Syariah. Salimiya: Jurnal Studi Ilmu Keagamaan Islam, 1(4), 17-39.
Fahham, A. M. (2020). Pendidikan Pesantren Pola Pengasuhan, Pembentukan Karakter, Dan Perlindungan Anak. Jakarta: Publika Institut Jakarta.
Fathoni, M. A., & Rohim, A. N. (2019). Peran Pesantren Dalam Pemberdayaan Ekonomi Umat Di Indonesia. Conference On Islamic Management, Accounting, And Economics (Cimae) Proceeding, 2, 133-140.
Haryanti, N., Adicahya, D., & Ningrum, R. Z. (2020). Peran Baznas Dalam Meningkatkan Perekonomian Masyarakat. Iqtisadiya: Jurnal Ilmu Ekonomi Islam, 7(14), 103-112.
Hidayat, T., Rizal, A. S., & Fahrudin. (2018). Peran Pondok Pesantren Sebagai Lembaga Pendidikan Islam Di Indonesia. Ta'dib: Jurnal Pendidikan Islam, 7(2), 461-472.
Ikbal, M., Pohan, A. J., & Nasution, S. (2021). Pergumulan Sistem Pesantren Transformasi Menuju Indentitas Baru. Sumatera Utara: Madina Publisher.
Kariyanto, H. (2019, Agustus). Peran Pondok Pesantren Dalam Masyarakat Modern. Edukasia Multikultura, 1(1), 15-30.
Kusnandar, V. B. (2021, September 30). Sebanyak 86,88% Penduduk Indonesia Beragama Islam. Retrieved From Databoks.Katadata.Co.Id: Kusnandar, V. B. (2021, 30). Sebanyak 86,88% Penduduk Indonesia Beragama Islam. Retrieved From Databoks.Katadata.Co.Id: Https://Databoks.Katadata.Co.Id/Datapublish/2021/09/30/Sebanyak-8688-Penduduk-Indonesia-Beragama-Islam"
Kusumaningrum, S. I. (2019, Mei). Pemanfaatan Sektor Pertaniansebagai Penunjang Pertumbuhan Perekonomian Indonesia. Jurnal Transaksi, 11(1), 80-89.
Lugina, U. (2018, Maret). Pengembangan Ekonomi Pondok Pesantren Di Jawa Barat. Risâlah: Jurnal Pendidikan Dan Studi Islam, 4(1), 53-64.
Maesaroh & Achdiani. (2017). Tugas Dan Fungsi Pesantren Di Era Modern. Sosietas, 7(1), 346 - 352.
Mahdi, A. (2013). Sejarah Dan Peran Pesantren Dalam Pendidikan Di Indonesia. Jurnal Islamic Review, 2(1), 1-20.
Marginigsih. (2019). Kegiatan Ekonomi Dalam Pemanfaatan Sumber Daya Alam. Retrieved From Sumber.Belajar.Kemdikbud.Go.Id: Https://Sumber.Belajar.Kemdikbud.Go.Id/Repos/Fileupload/Pemanfaatan%20ekonomi-Yane/Topik-1.Html
Muhdi, A. A. (2018). Manajemen Pendidikan Terpadu Pondok Pesantren Dan Perguruan Tinggi (Studi Multisitus Di Ma'had Dalwa Bangil Dan Pondok Ngalah Purwosari Pasuruan. Malang: Literasi Nusantara.
Pangkalan Data Pondok Pesantren. (2019). Statistik Data Pondok Pesantren. Jakarta: Ditpdpontren.Kemenag.Go.Id.
Rukajat, A. (2018). Pendekatan Penlitian Kualitatif (Qualitative Research Approach). Sleman: Cv Budi Utama.
Sugandi, A., Tanjung, H., & Rusli, R. (2017, Oktober). Peran Pondok Pesantren (Ponpes) Modern Dalam Pemberdayaan Ekonomi Masyarakat. Tadbir Muwahhid, 1(2), 99-115.
Sukawi, Z., & Haryanto, S. (2014). Dinamika Pertumbuhan Pesantren (Melacak Akar-Akar Historis Perkembangan Pesantren Di Jawa). 14(1), 35-55.
Suwito, F. A., & Tarigan, A. A. (2022, Juni). Program Pengembangan Ekonomi Berbasis Pondok Pesantren. Jip: Jurnal Inovasi Penelitian, 3(1), 4371 - 4382.
Worldpopulationreview. (2022). Muslim Population By Country 2022.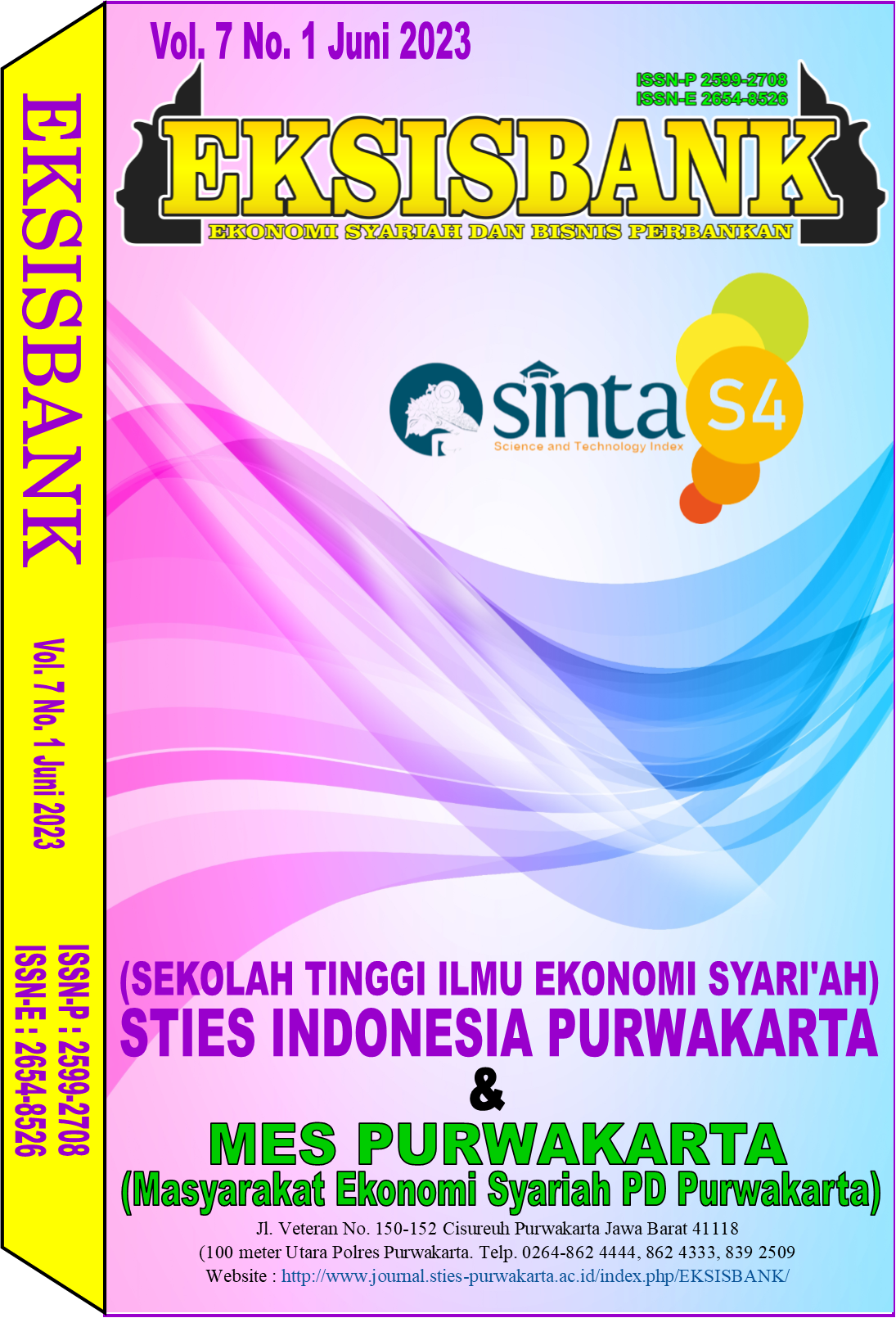 How to Cite
Prawoto, I., & Anisa, F. (2023). Peran Pondok Pesantren Al-Zaytun Dalam Meningkatkan Ekonomi Masyarakat Sekitar. EKSISBANK (Ekonomi Syariah Dan Bisnis Perbankan), 7(1), 123-135. https://doi.org/10.37726/ee.v7i1.715