Magnet Analisa Fundamental Di Kalangan Mahasiswa Generasi Z Menjadi Investor GISBEI IAIN Syekh Nurjati Cirebon
Dini Selasi

Institut Agama Islam Bunga Bangsa Cirebon

Cory Vidiati

Institut Agama Islam Bunga Bangsa Cirebon

Ahmad Munajim

Institut Agama Islam Bunga Bangsa Cirebon

Gama Pratama

Institut Agama Islam Bunga Bangsa Cirebon

Muhammad Ridwan

Institut Agama Islam Bunga Bangsa Cirebon

Kasnawic Kasnawi

Institut Agama Islam Bunga Bangsa Cirebon
Abstract
This research is motivated by the development of investors among students in managing finances, namely by investing in Islamic stock investments. This study aims to find out how the fundamental strategy is carried out by students at IAIN Syekh Nurjati Cirebon. The research method used is qualitative research using interviews, observation and qualitative descriptive data analysis techniques. The results of this study are that there are several fundamental techniques used in trading Islamic stocks, namely by looking at news related to the development and performance of the company, the company's financial statements, the use of SOTS and RTI Business applications. The conclusion in this study is that in using fundamental analysis, students will use different strategies and are tailored to their respective investment goals.
References
Abdalloh, I. (2018). Pasar Modal Syariah. PT Elex Komputindo.
Alfinuri, N. A. (2022). Pengaruh Pengalaman Investor, Nilai Investor, Dan Kepuasan Investor Terhadap Loyalitas Investor GIS BEI FEBI UIN Antasari Banjarmasin. AJIEB (Asian Journal of Islamic Economics and Business), 1(1), 1–16.
DSN-MUI. (2019). DSNMUI No.80/DSNMUI/III/2011. DSN-MUI.
IDX. (2018a). Galeri Investasi Bursa Efek Indonesia dan Komunitas Pasar Modal.
IDX. (2018b). Index Saham Syariah. Https://Www.Idx.Co.Id.
IDX Islamic. (2020). Shariah Online Trading System (SOTS). Idx.Co.Id.
IDX Islamic. (2022). Publikasi Statistik Pasar Modal Syariah. Idxislamic.Idx.Co.Id.
Indonesia Stock Exchange. (2019, January). Statistik; Pertumbuhan Galeri Investasi. GI News.
Kementrian Agama RI. (2020). Al-Qur'an dan Terjemahannya. PT.Kumudasmoro Grafindo.
Muchtar, E. H. (2019). Proses Screening Saham Syariah (Perspektif Akademisi dan Praktisi Ekonomi Syariah). Ad Deenar: Jurnal Ekonomi Dan Bisnis Islam, 3(2), 177–186.
Nasution, S. A., Lasmi, A., Silalahi, P. R., & Nasution, A. (2023). Efektivitas Galeri Investasi Syariah Bursa Efek Indonesia (GIS BEI) UINSU Medan Dalam Meningkatkan Literasi Pasar Modal. El-Mal: Jurnal Kajian Ekonomi & Bisnis Islam, 4(3), 548–559.
Riastuti, N. K., & Sujana, I. N. (2020). Respon Mahasiswa Terhadap Keberadaan Galeri Investasi Bursa Efek Indonesia di Universitas Pendidikan Ganesha. Ekuitas: Jurnal Pendidikan Ekonomi, 8(2), 147–153.
Widyaningsih, B., & Rahayu, A. S. (2022). Analisis Peran Galeri Investasi Syariah dalam Meningkatkan Jumlah Investor Milenial pada Universitas KH A. Wahab Hasbullah Jombang. JoEMS (Journal of Education and Management Studies), 5(6), 70–74.
Zannati, R., & Budiarti, E. (2021). Faktor Fundamental Kinerja Keuangan Terhadap Harga Saham Lq45. Oikonomia: Jurnal Manajemen, 17(2), 155–169.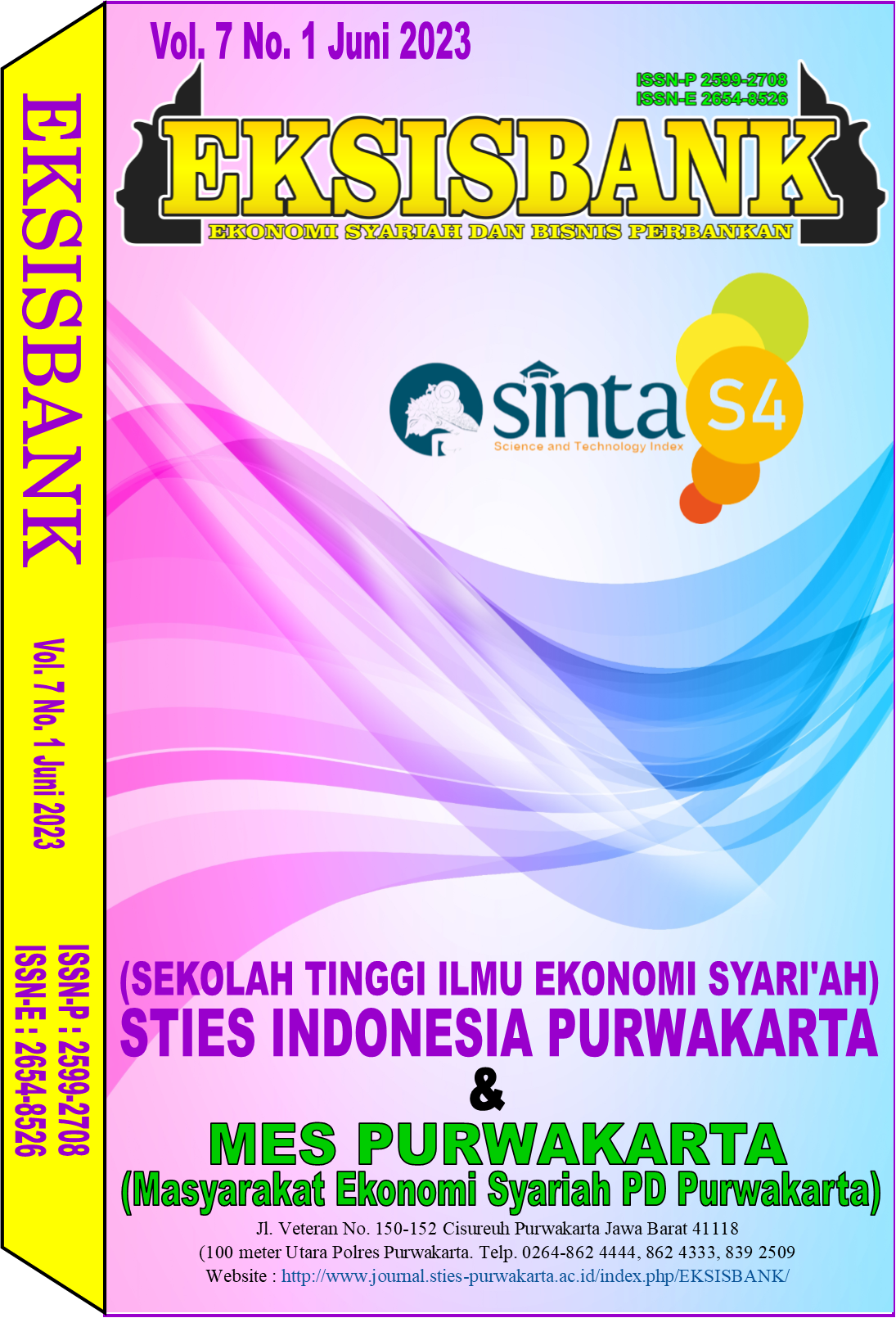 How to Cite
Selasi, D., Vidiati, C., Munajim, A., Pratama, G., Ridwan, M., & Kasnawi, K. (2023). Magnet Analisa Fundamental Di Kalangan Mahasiswa Generasi Z Menjadi Investor GISBEI IAIN Syekh Nurjati Cirebon. EKSISBANK (Ekonomi Syariah Dan Bisnis Perbankan), 7(1), 29-36. https://doi.org/10.37726/ee.v7i1.692